WOLLEREI NEWS : Nature from head to toe: Atelier Zitron Balance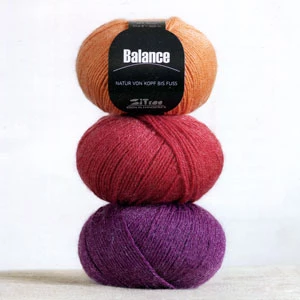 A yarn with a future: The new noble blend of Merino extrafine and Tencel, available in 18 colours, brings a brilliant look and a unique wearing comfort.
The yarn is easy-care, robust and at the same time completely biodegradable, as it is made exclusively from natural raw materials.
Due to the silky sheen, the colour appears slightly different depending on the direction of viewing the ball and depending on the lighting.
The addition of the fibre Lyocell (Tencel) gives the high-quality merino wool a beautiful sheen and makes the knitwear hard-wearing, so that it is even suitable for socks.
Tencel is produced by the Austrian company Lenzing AG and is their brand name for the material Lyocell.
Lyocell is a regenerated fibre that is 100% biodegradable in a short time.
For production, wood (in this case eucalyptus) is chopped into small pieces and soaked in water. By adding the non-toxic solvent NMMO the cellulose is dissolved out.
The NMMO is then filtered out of the water almost without residue and used for subsequent production processes.
The EU has awarded this process the "European Award for the Environment".
The Tencel fiber can absorb a lot of moisture and conduct it directly away from the body to the outside. This prevents the formation of bacteria and odours.
The smooth, cool surface feels wonderful on the skin and is comparable to silk in terms of comfort and shine.
At the end of its life cycle, this fibre decomposes biologically back into its original products without leaving any harmful residues.
Wollerei News : Topics
---
New products and designs at Wollerei
---
Current special offers at Wollerei