Stylish companions : Cases made of felt, hand-painted and embroidered
published on:
Thursday 04 March, 2021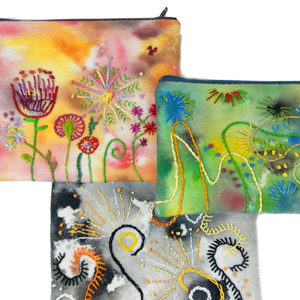 Keys, smartphone, lipstick, glasses or headphones - this stylish zippered companion collects your important utensils.
The cases are made of felt, hand-painted and embroidered in free technique with ornaments, flowers or geometric shapes and lined with contrasting colored cotton fabrics.
The Utensilos are produced in Austria and are very intricately crafted down to the smallest detail.
An ideal companion that fits in any handbag, basket or travel bag and with which you always have the most important things with you.
---
More Wollerei news are available in our news archive.
You can always checkout all new products in our store at a glance here.
Be the first to learn about the latest Atelier Zitron, Rowan, Gedifra and Schachenmayr news and our special offers and subscribe to our Wollerei Newsletter.