Arne & Carlos present: New Nordic Men's Collection
published on:
Tuesday 01 October, 2019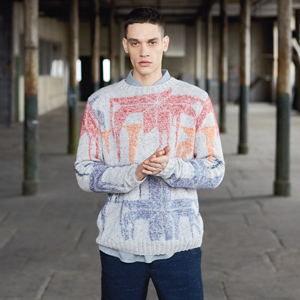 Exciting Collection: Nordic Heritage, Tradition and Culture Meets Modernity
This year Arne & Carloss are launching an unadulterated, characteristic and highly fashionable men's collection, based on the Nordic heritage but with exactly the touch that makes garments and accessories fashionable and contemporary.
The effective yarns Felted Tweed, Alpaca Soft DK and Kidsilk Haze are reinterpreted in colour and classic Fair Isle and intarsia patterns are deconstructed and fashionably contemporary.
Important elements for this are the use of knitted stitches on the left or the construction of strong contrasts.
We think the 12 designs are extraordinary, noble in styling and surprisingly original in colour.
New Nordic Men's Collection by Arne & Carlos
Behind the scenes:
---
More Wollerei news are available in our news archive.
You can always checkout all new products in our store at a glance here.
Be the first to learn about the latest Atelier Zitron, Rowan, Gedifra and Schachenmayr news and our special offers and subscribe to our Wollerei Newsletter.