Textile handicraft by Ehmert Design at the Art Advent in Vienna
published on:
Thursday 17 November, 2022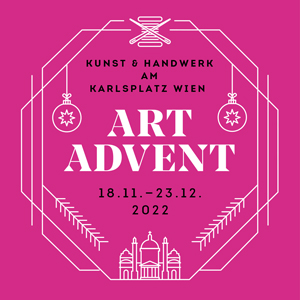 Visit the booth of Ehmert Design at the atmospheric Art Advent Christmas Market in front of the Karlskirche in Vienna:
The arts and crafts market that is regional, fair, ecological and sustainable.
About 80 artisans sell their unique pieces at this market, each piece lovingly handcrafted from glass, wood, ceramics, leather, metal, oils, stone, textiles, wax and paper.
At Art Advent, there are no commercial goods and the gastronomic offer is fully certified organic.
If you plan to visit a Christmas market in Vienna, visit this one!
Opening hours:
November 18 to December 23
daily from 12.00 to 20.00

All details on the Art Advent website here
Who can not visit the market, the assortment of Ehmert Design can also be found here in Wollerei for online ordering.
The range includes hand-woven scarves for men and women, headbands made of organic cotton fleece or polar fleece, cases, caps and hats, some made of GOTS-certified organic cotton.
Textile art by Ehmert Design - handmade unique pieces from Austria
---
More Wollerei news are available in our news archive.
You can always checkout all new products in our store at a glance here.
Be the first to learn about the latest Atelier Zitron, Rowan, Gedifra and Schachenmayr news and our special offers and subscribe to our Wollerei Newsletter.