Austermann Step 6 Classic - 6-ply sock yarn in 5 classic colors
published on:
Wednesday 27 October, 2021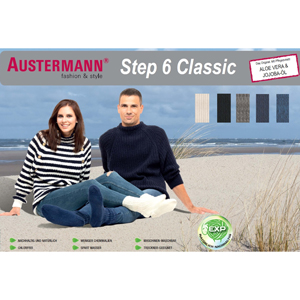 With Austermann Step 6 Classic we have again a 6-thread sock yarn in 5 classic colors in our program.
Treat your feet to some wellness with care additive aloe vera and jojoba in permanent finish
especially soft and easy to care
cashmere-like, soft handle
machine washable up to 40° in the gentle wool wash program with suitable wool detergent without fabric softener
EXP = Chlorine-free wool finish
EXP stands for "EX-Pollution", i.e. the elimination of pollutants from conventional wool finishing.
With EXP, the Schoeller Spinning Group has succeeded for the first time in developing a completely new process. In this process, full machine washability of wool is achieved without the usual chlorine contamination.
With this innovation, Schoeller sets a milestone and once again confirms its ecologically sustainable orientation.
As a newly developed wool finishing process, EXP satisfies the highest demands. The chlorine-free process, the reduced use of resources and, last but not least, the European production site with its reliable processes, make the process an all-round sustainable innovation. EXP is the first wool finishing process worldwide that meets the strict "bluesign®" and "Global Organic Textile Standard (G.O.T.S.)" criteria and also fulfills the "Oeko-Tex Standard".
---
More Wollerei news are available in our news archive.
You can always checkout all new products in our store at a glance here.
Be the first to learn about the latest Atelier Zitron, Rowan, Gedifra and Schachenmayr news and our special offers and subscribe to our Wollerei Newsletter.