100% Nature : The new Ramie de Luxe by Atelier Zitron
published on:
Wednesday 18 August, 2021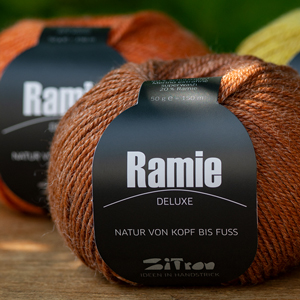 Ramie is the Malay name for a tropical stinging nettle plant without stinging hairs native to East Asia.
Ramie, popularly known as Chinese grass, is a cultivated plant. It is usually propagated by cuttings.
With a life span of 8-10 years, it can be harvested on average three times a year. On the same size cultivated area, the fiber yield is four - to five times that of cotton, and with significantly lower water consumption.
The highest quality genus of this plant is called kenas, and it is used in Atelier Zitron's new Ramie de Luxe.
The ramie used ranges around 20 microns with an almost unbelievable fiber length of 170 - 180 mm.
Ramie is made of pure cellulose, is white and shiny and has a tensile strength like silk. Zitron blends it with Merino Extrafine and that is top class 100% natural.
The yarn remains buttery soft even after many washes and is even suitable as a sock yarn.
A yarn from head to toe in 18 noble colors for sweaters, jackets, accessories, baby clothes, socks, ....
---
More Wollerei news are available in our news archive.
You can always checkout all new products in our store at a glance here.
Be the first to learn about the latest Atelier Zitron, Rowan, Gedifra and Schachenmayr news and our special offers and subscribe to our Wollerei Newsletter.