Candy boxes without calories : The Catania Amigurumi Boxes
published on:
Saturday 21 August, 2021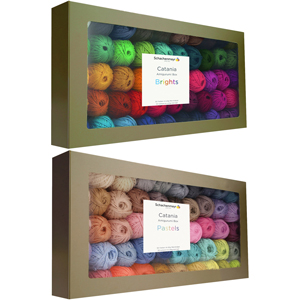 A box full of Catania
50 colors of Schachenmayr Catania cotton as 20 g mini balls

including shade card of all 100 Catania colors
Catania is not only Oekotex 100 standard, product class 1 certified, it has also been tested according to DIN EN 71-3 and is suitable for the production of toys.
In 2 variants, either BRIGHTS (bright colors) or PASTEL (pastel colors)
The 20 g balls are not available individually, only in these boxes
Catania Amigurumi Box BRIGHTS - 50 x 20g
Catania Amigurumi Box PASTEL - 50 x 20g

And now new:
Smaller boxes with 25 x 20g balls.
Also these smaller boxes are available in 2 variants: CHRISTMAS and PUPPETS.
The PUPPETS box also contains an instruction booklet (German and English) for 2 dolls with lots of clothes and accessories to play with and style, designed by Frollein Häkelfein.
The CHRISTMAS box also contains an instruction booklet with 9 designs (German and English) for a merry and colorful Christmas, lovingly designed by Frau Apfelkern.
Catania Amigurumi Box DOLLS - 25 x 20g
---
More Wollerei news are available in our news archive.
You can always checkout all new products in our store at a glance here.
Be the first to learn about the latest Atelier Zitron, Rowan, Gedifra and Schachenmayr news and our special offers and subscribe to our Wollerei Newsletter.