Four new colors in Traumseide hand-dyed by Atelier Zitron
published on:
Wednesday 12 May, 2021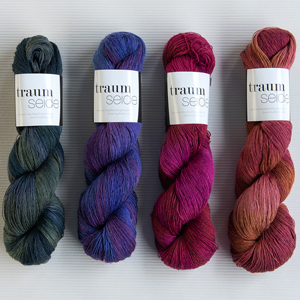 The lace yarn made from exquisite mulberry hank silk is now available in four new hand-dyed compositions.
Noble, deep colors with highest washfastness:
140 Cognac
141 Ocean
142 Sea
143 Ruby
certified according to Ökotex 100, product class 1. Hand-dyed and made in Germany.
---
More Wollerei news are available in our news archive.
You can always checkout all new products in our store at a glance here.
Be the first to learn about the latest Atelier Zitron, Rowan, Gedifra and Schachenmayr news and our special offers and subscribe to our Wollerei Newsletter.