Vintage nostalgia in timeless new used look design
published on:
Sunday 18 April, 2021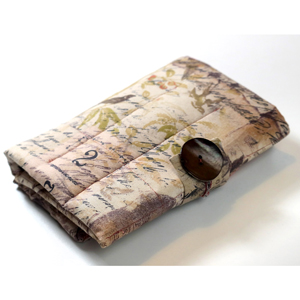 A new, incomparable style for needle cases, smartphone cases, pencil cases and keychains enriches the Wollerei assortment:
Urban, high-fashion style and clean, custom design meets nostalgic elements and is unmatched timeless.
Magical moments with sepia-toned handwriting underlaid with tile patterns or gift paper from the previous century.
Materials depicting analog gems like wrapping paper, cardboard boxes, tickets, faded mosaics and wall charts of entymologists conjure up memories of yesteryear.
The used look perfects and enlivens the impression of the used surface.
The cases are produced by Ehmert Textilkunst in Wiener Neustadt, Austria and guarantee the highest environmental standards.
---
More Wollerei news are available in our news archive.
You can always checkout all new products in our store at a glance here.
Be the first to learn about the latest Atelier Zitron, Rowan, Gedifra and Schachenmayr news and our special offers and subscribe to our Wollerei Newsletter.