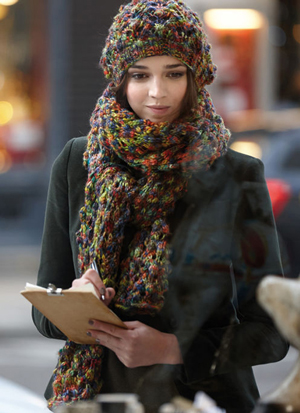 SMC Select combines long standing premium classic yarns as well as trendfashion qualities of the season and presents a well chosen and defined yarn range.
SMC Select has retained the global top selling Gedifra qualities under the SMC select banner to sit alongside the new and existing SMC Premium yarns.
SMC Select will always be confident in style, with shapes that flatter and knitting to please the fingers that complete the project to be admired by all.
SMC Select represents leading colour creativity, outstanding and accessible design excitement and a very specially selected yarn range – a global premium brand, be fascinated!
We offer the complete SMC Select collections Spring/Summer and Autumn/Winter.
It is impossible to always have all colors of all yarns in stock. But we can offer all the deliverable color range and will get yarns/colors which are not in stock from the manufacturer within a few business days.
SMC Select Bags of 10 Balls

Our special offer:

Save 10% off with every bag of 10 balls
10 balls of a color for the price of 9!

If you combine a bag of 10 balls with the same yarn from the small quantities, the color will be from the same lot.

SMC Select summer yarns bags of 10 balls

SMC Select Small Quantities

You don't have to order a whole packing unit.
For the small quantities the order minimum is only 5 balls of a color.

If you combine a bag of 10 balls with the same yarn from the small quantities, the color will be from the same lot.

SMC Select Summer Small Quantities

SMC Select Winter Small Quantities

SMC Select Single Balls/Special Offers

SMC Select and Gedifra yarns in selected colors while supplies last. Single balls are possible, no order minimum. Special prices

All yarns/colors in this category are in stock. Immediate delivery.

Please note that we cannot guarantee the same lot if you combine special offers with bags of 10 balls or small quantities.

SMC Select Magazines

We offer a great selection of knitting and crochet magazines, including the SMC Select Highlights magazines.

Choose between the german, french or english editions.

Have a look at the Highlights magazines:

SMC SelectHighlights

SMC Select Knitting Gallery

Browse our knitting gallery

Ideas, models and suggestions using SMC Select yarns. Yarn requirements for the different models, shade cards, yarn info and more...

Knitting Gallery SMC Select Summer

Knitting Gallery SMC Select Winter